Back
10% discount on 5+ courses
20% discount on 10+ courses
Call our sales team on 03300417268 to make an enquiry
Contact us
Level 3 HACCP Training Course
By law, all food and drink businesses must ensure that they have implemented an effective food safety management system based on the 7 principles of HACCP on their premises.
This Level 3 HACCP training course is designed to help learners understand more about what's involved in a successful HACCP food safety management system. The course outlines each essential step of the HACCP planning process and aids you to understand how to identify food safety hazards, select relevant control measures and ensure the HACCP system continues to operate efficiently and effectively.
Accredited by CPD and iirsm
Ensures compliance with EU Regulation (EC) No 852/2004 on the hygiene of foodstuffs
Fully online course and assessment with no time limits
Approximate duration: 2-3 hours
Who Should Take This Level 3 HACCP Course?
This course is suitable for managers and supervisors working in food and drink premises, including catering, retail and manufacturing businesses. The course is designed to help you comply with the EU Regulation (EC) No 852/2004 on the hygiene of foodstuffs which requires all food businesses to implement and manage an effective food management system based on the principles of HACCP.
Duration
It is estimated that this course will take approximately 2-3 hours to complete (depending on learning speed).
Certification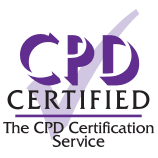 On successful completion of the course you will be able to download a quality assured certificate.
All of our courses are accredited by the CPD Certification Service as conforming to universally accepted Continuous Professional Development (CPD) guidelines.
This course is also accredited by IIRSM, the International Institute for Risk and Safety Management, as providing quality and content-approved training.
Content
The course is divided into fifteen accessible, interactive modules and includes an assessment at the end.
An Introduction to HACCP
HACCP and The Law
HACCP Alternatives
Planning a HACCP System
Food Safety Hazards
Prerequisite Programmes
Creating the HACCP System
Principle 1: Hazard Analysis
Principle 2: Critical Control Points
Principle 3: Critical Limits
Principle 4: Monitoring Critical Control Points
Principle 5: Corrective Action
Principle 6: Verification of the HACCP System
Principle 7: Documentation
Implementing the HACCP System
Aims of the Level 3 HACCP Training
By the end of this course learners will:
Explain the importance of HACCP systems and the background of food safety management
Understand the legal requirements pertaining to HACCP and food safety management systems that can be chosen
Develop the essential hygiene prerequisites as foundations for effective HACCP
Recite the seven principles of HACCP
Understand the importance of having effective prerequisite programmes in place
Explain the different approaches to the use of HACCP
Understand the significance of critical limits and corrective action and know why these need to be carefully monitored
Know how to validate and verify the HACCP plan and understand the importance of keeping documentation
Develop a HACCP plan

Carry out hazard analysis and defining control measures
Identify critical control points (CCPs)
Control CCPs - limits, monitoring and corrective action

Manage a HACCP plan

Application, implementation, verification and maintenance of HACCP
Roles, resources, communication, training and development
Challenging HACCP effectiveness
Assessment
The online assessment is taken on completion of the training material. You will be asked 20 multiple choice questions with a pass mark of 80%.
If you don't pass don't worry! You can take the test as many times as you need with no extra charge.